History has been created. India, the first country to touch the south pole of the moon, Looking for a Report Writing on the Chandrayaan-3 Mission? Here in this post, you will find a complete guide with examples of Report Writing.
Any report writing aims to describe any incident in an organized way to the reader. In this report Writing on the Chandrayaan-3 Mission we have covered all the necessary points about the achievement.
Report Writing on Chandrayaan-3 Mission Points:
Introduction
Historic Landing
Mission Objectives
Significance of the Mission
Conclusion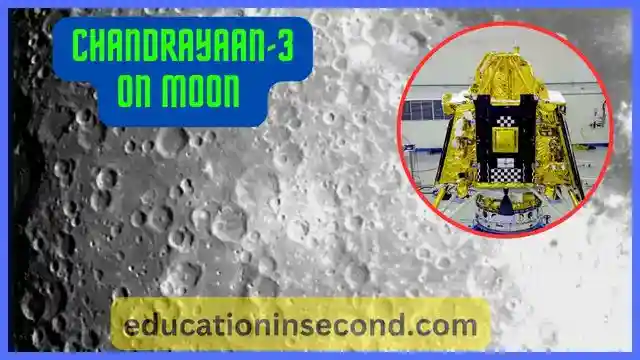 Chandrayaan-3 Mission Report Writing
Title: India Is on the Moon
On August 23, the Indian space research organization ISRO created history by making the first lunar mission that successfully soft-landed on the south pole of the moon.
Chandrayaan 3 was launched on July 14 from Satish Dhawan Space Centre, Sriharikota. The mission was carried out with the help of the LVM3-M4 rocket. Chandrayaan 3 comprises a lander named Vikram and a rover named Praygan.
The Vikram lander successfully touched down on the moon's surface at 18:04 local time. Later on, the landing site was named Shiv Shakti Point. After the successful landing of Vikram, the Praygan rover ramped down and started moving on the moon's surface.
One of the primary objectives of the Chandrayaan-3 mission is to analyze the lunar surface to understand the composition of the moon. The rover's exploration will provide full, inside information to humanity about the moon's history, evolution, and potential resources.
The Chandrayaan-3 mission stands as a testimonial of India's unwavering commitment. After the failure of the Chandrayaan-2 mission, India learned from that mission and made a full-proof plan for the upcoming Chandrayaan-3 mission to make it successful.
To remember this glorious day in the Indian space journey, India will celebrate August 23 as National Space Day. Chandrayaan 3 mission success showcases India's capabilities in designing buildings and executing complex space missions.
Chandrayaan 3 mission success will be a source of inspiration for aspiring scientists, students, and space explorers.
Why is Chandrayaan-3 important for India?
Chandrayaan-3 is very important for India as it is the first mission that will explore the unexplored south pole of the Moon. This mission will also grab world attention in the space sector which is very significant from a geopolitical perspective.
How many days did Chandrayaan-3 take to reach the moon?
This mission took almost 40 days to land on the moon's surface.
What is the cost of Chandrayaan 3 mission ?
The total cost of the Chandrayaan-3 mission is approximately Rs. 615 crore.
Hope you have liked this report writing, Keep your feedback in the comments section, For free study materials join the Telegram channel.