A farewell ceremony is an occasion where everyone pays tribute to the successful completion of someone's work life. A farewell ceremony for a teacher means paying tribute to the complete teaching journey of a teacher.
Report Writing on farewell ceremony of a teacher tells you about the ceremony observed by a school to pay tribute to the teacher's retirement.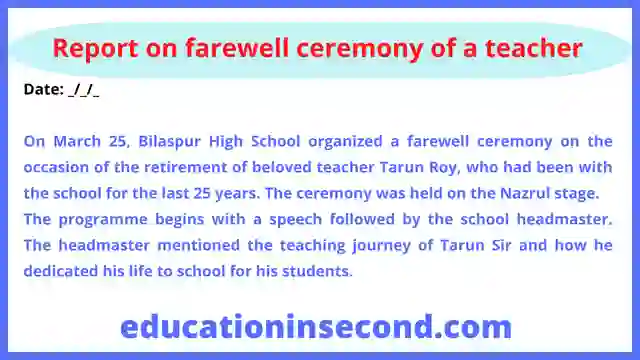 The farewell ceremony is written on the basis of the following points:
How did the school commemorate the farewell ceremony ?
How the programme begins and how it goes
Farewell ceremony speech
How students and teachers come together to celebrate the ceremony
Report Writing on farewell ceremony of a teacher

On March 25, Bilaspur High School organized a farewell ceremony on the occasion of the retirement of beloved teacher Tarun Roy, who had been with the school for the last 25 years. The ceremony was held on the Nazrul stage.
The programme begins with a speech followed by the school headmaster. The headmaster mentioned the teaching journey of Tarun Sir and how he dedicated his life to school for his students. The headmaster also spoke about Tarun sir's unique teaching style and his ability to make complex concepts very simple for students.
After that, Tarun sir spoke a few words about his whole teaching career and how his teaching career earned him lots of love and respect from students. Tarun sir expressed his gratitude to the school committee and all the teaching and non-teaching staff for making this day very special and memorable to him.

Later, students and teachers gave him some presentations to share and to wish him a long and healthy life. The programme ended with the cake cutting event. Overall, the farewell ceremony was a very emotional and heartfelt tribute.
Farewell ceremony is a day when we celebrate the journey of a teacher, and it's very important to celebrate this kind of ceremony to remind ourselves of the role of a good teacher in society.