Have you ever written any tasks on your to-do list at the beginning of the year? I am sure you have done this. This is a great practice to make a positive change in our lives. Setting a New Year's resolution can help us stay motivated towards our goal. Paragraph Writing on My New Year Resolution will tell you about my personal New Year's resolution and how I planned to make a positive change in my life.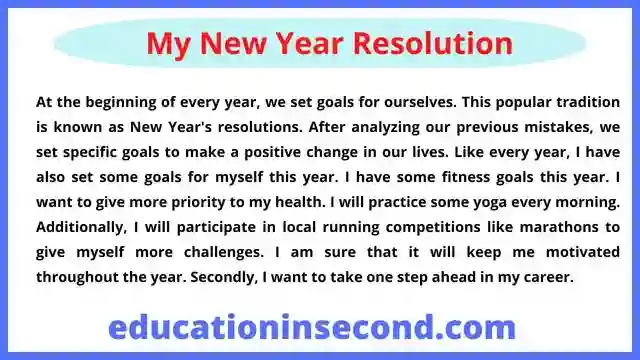 Points: What is a New Year's Resolution? – fitness goal; career goal – personal development goal – travel goal – conclusion.
Paragraph Writing On My New Year Resolution
At the beginning of every year, we set goals for ourselves. This popular tradition is known as New Year's resolutions. After analyzing our previous mistakes, we set specific goals to make a positive change in our lives. Like every year, I have also set some goals for myself this year.

I have some fitness goals this year. I want to give more priority to my health. I will practice some yoga every morning. Additionally, I will participate in local running competitions like marathons to give myself more challenges. I am sure that it will keep me motivated throughout the year.
Secondly, I want to take one step ahead in my career. I will take more courses, seminars, and conferences. I will network with more people in my field.
Thirdly, I have the goal for personal development. I want to learn some new skills. I will read a lot of books. I want to practice more English, and at the end of this year, I want to be a fluent English speaker.
Fourthly, I want to travel to some new places. I want to explore more cultural places. Additionally, I also want to spend a lot of time with my friends and family.
Setting a new year's resolution can be very beneficial to achieving any goal. As the new year's resolution will always remind you to go some extra while, it will keep you motivated towards your goal.