Indian farmers are the backbone of our society; they not only contribute to our economy but also ensure food for every countryman.
Since ancient civilizations, India has had a very rich tradition and culture of farming. Indian farmers are very resilient and kind by nature.
An essay on Indian farmers discusses various life aspects of Indian farmers.
How agricultural tradition has transferred from generation to generation
The role of the Indian farmer
The problems Indian farmers face
How government policy can improve the lives of Indian farmers
The role of technology to increase the yield of the crops

There are three types of essays: short, medium, and large. All the essays are written based on the above points, as preferred according to your needs.
Table of Contents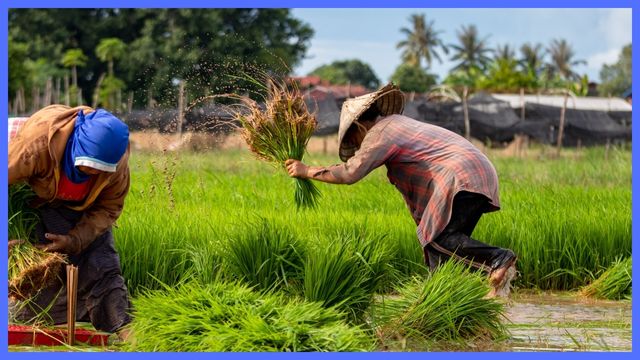 Essay on Indian Farmers 150 Words
Indian farmers play a significant role in the country's growing economy. They ensure food for everyone in this country. The agriculture sector is a vast part of the Indian economy.
According to the food and agriculture sector, 70% of rural households depend on agriculture, and among them, 82% of the farmers are small or marginalized.
Despite the rich history and culture of farming in India, farmers Still face many challenges like climate change, water scarcity, and irrigation problems, which decrease the yield of the crops.
With the right government policy for our small farmers, Indian farmers can beat all this diversity.
The future of the Indian agriculture sector is very bright, as incorporating technology into farming can boost the yield of crops.
Essay on Indian Farmers in 200 words
Indian farmers are an inevitable part of Indian society. As India is a majorly agriculture-dependent country, Indian farmers ensure food for every countryman.
58% of India's population is directly or indirectly associated with the agriculture sector. Among all the farmers, 80–85% are small farmers who have less than 2 hectares of farming land.
Indian farmers grow their crops with love and care, just as a mother nourishes her children. Indian farmers say "kheti hamara mah hai" which means crops are like our moms.
India is the second-largest rice producer in the world. The agriculture sector has a track record of year-on-year growth.
Despite the gradual growth of Indian farmers, they still face numerous problems. Indian farmers are heavily dependent on the monsoon seasons to grow their crops, and sometimes delays in the monsoon lead to the destruction of their crops.
Another problem that Indian farmers face is that they don't have enough access to capital to experiment with different types of crops. They also don't have access to modern technology to make informed decisions.
To address all the problems of farmers, the government should come forward and implement the right policy to give maximum benefit to our farmers.
Essay on The Indian Farmer in 500 Words

The agriculture sector has accelerated a vast part of India's GDP over the centuries. Indian farmers play a significant role in the country's growing economy. Farmers produce food that feeds 1.5 billion people.
Historical Background of Indian Agriculture:
From the beginning of civilization, India was an agriculture-dependent country. In early civilization, people started farming near the river bank and used to sustain their lives only through farming. This tradition deeply evolved into our culture, and with time, India strengthened its agriculture with high production and yield.
Challenges Faced by Indian Farmers:
Still today, Indian farmers face numerous challenges.
Economically: farmers with very limited land suffer problems of low yield that lead to the burden of debt pushing them into poverty. Limited access to credit and financial resources also enhanced this problem further.
Monsoon dependency: A large portion of Indian farmers heavily depend on the monsoon season to grow their crops. This climate change makes farmers vulnerable and leads to crop failure. Sometimes a heavy waterfall destroys the crops due to inadequate irrigation facilities.
Pest attack: Indian farmers lack knowledge about possible pests and pesticides. They are not modern techniques of pest management.

Government initiatives:
Indian farmers face several problems, and that leads them into erotic situations. To address farmer problems, the Indian government has taken several steps from time to time.
The government introduced the Kishan Bima Yojana, which offers the farmer an insurance policy for their crops. The government also provided MSP minimum support prices that ensured the farmer got a fair price for their product. The government is also aiming to triple the income of Indian farmers in a few years.
Role of Technology and Innovation:
To enhance the yield of farmers, technology and innovation can play a significant role. Nowadays, farmers are using modern techniques and mechanisms for speeding. Farmers are using mobile apps that allow them to get all the updates about the weather and their seasonal crops with just a click. All these updates help farmers be informed decision-makers.

Solution and recommendation:
To achieve the aim of the Indian government, which is three times the income of our Indian farmers, we must take several states, which are as follows:
Farmers should receive financial aid with low interest rates.
The government should create a marketplace where farmers can sell their products at a fair price.
Modern technology like satellite mapping, drone seeding, etc. should be
The farmer should provide life insurance for their family members.

Conclusion: Farmers are the backbone of the Indian economy, and the problems faced by all Indian farmers can be solved with the right kind of government policy and with technical help.
The government should encourage farmers to practice bio farming and sustainability. India needs more agricultural entrepreneurship so that farmers have more options to supply their crops.
FAQ
What are the problems Indian farmers face?
The main problem Indian farmers face is monsoon dependency, which makes them vulnerable.
What are some government policies for farmers in India?
PM Kisan Samman Nidhi Scheme, PM Fasal Bima YoJana.
Who are the small farmers in India?
The farmers who have less than 2 hectares of farming land are called small farmers.
What is the Minimum support price (MSP)?
The price at which the government buys crops directly from the farmers